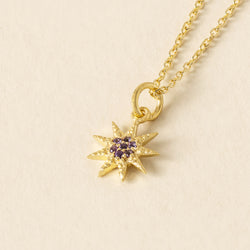 Gem Star Necklace Amethyst Gold
As you embark on a spiritual journey, be inspired to spread your unique rays of light to others with this piece. Our Gem Star Necklace represents love and hope, a guardian of your precious shine. 
Originating from ancient times, the gem is filled with significance, inspiring curiosity in those who make a wish to search for brilliance around the world. Embrace timeless beauty and illuminate with life through this piece.
The Nine-Pointed Star symbol on this necklace represents number of perfection. As the highest single number, nine is recognised as a powerful element, representing the numerical value of the word 'Bahá' (Arabic for "Glory") in the Abjad numerical system.
20" (50cm) Chain Length 1mm thick fully adjustable 

Gem Star Pendant 8mm