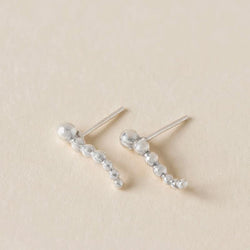 Kat Earrings Silver
Inspired by the planets of our universe, distinct and unique but forever connected, always as one. The universe is astonishing, divine. There is always greater intention behind each moment, radiate with intent and spirit. 
This handcrafted piece is significant as we guide ourselves and others through the unknown. As distinctive characters, we celebrate our uniqueness, with an ability to unite over wisdom and respect.
Size: 18mm

Our Silver earrings are hand-made from 925 Silver
Please be advised that we do not offer gift wrapping, refunds or exchange on sale items. Discontinued Design.