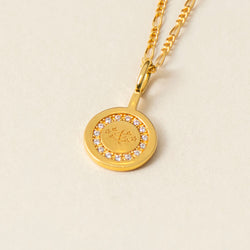 Divine Spirit Necklace Gold — Ringstone Symbol
Wear our Divine Spirit Necklace as a reminder that we are each connected through our universal sun, equally warmed by its rays of love and light.
A dazzling everyday piece with symbols that hold meaning, inspiring the dimension in how you look and feel.
Ringstone Symbol
The top bar signifies the spiritual world of God; the line between signifies the many Manifestations of God; the bottom bar signifies the physical world, and the vertical line joins the three horizontal bars together in the same way that the Divine Messengers of God form the link between the world of God and the world of man. 

The two accompanying stars represent Bahá'u'lláh and the Báb, central figures in the Baha'i Faith
Length 50cm
Pendant measures x1.2cm x 1.2cm Featuring Zircon