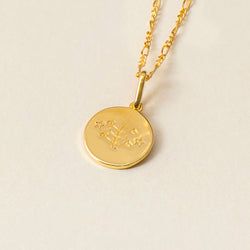 Shining Unity Necklace Gold — Ringstone Symbol
Let your soul shine with our Shining Unity Necklace.
Feel the comfort, courage, and confidence that glistens throughout this sun-soaked piece. With two symbols that each project a message of faith, keep this necklace close to warm your heart and inner soul.
Ringstone Symbol
The top bar signifies the spiritual world of God; the line between signifies the many Manifestations of God; the bottom bar signifies the physical world; and the vertical line joins the three horizontal bars together in the same way that the Divine Messengers Of God form the link between the world of God and the world of man. 
The two accompanying stars represent Bahá'u'lláh and the Báb, central figures in the Baha'i Faith.
Chain Length 45c with 5cm extension, can be worn at 45cm and 50cm
Heart Pendant measures x 1.4cm x 1.4cm