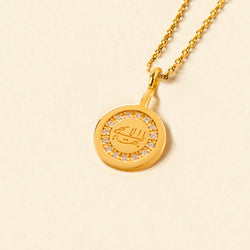 Divine Spirit Necklace Greatest Name — Solid 14k Gold and Diamonds
Wear our Divine Spirit Necklace as a reminder that we are each connected through our universal sun, equally warmed by its rays of love and light.
A dazzling everyday piece with symbols that hold meaning, inspiring the dimension in how you look and feel.
Greatest Name

The Greatest Name symbol on our Divine Spirit pendant consists of an Arabic impression of "O Thou Glory of the All-Glorious". It can serve as a metaphor for how the Faith of God through the ages has preserved humankind from the spiritual storms of our earthly lives, and how we can apply this in our own daily lives.
14k Solid Gold 
Fine Chain - Length 45cm Plus 5cm extension
Pendant measures x1.2cm x 1.2cm
Encrusted with conflict-free diamonds