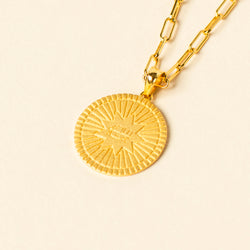 Bright Faith Necklace Gold
Wear the Bright Faith Necklace to inject feelings of warmth and joy into your universe.
Spark a new beginning in the most beautiful of ways, backed by the strength of the sun, a gift from our Creator to guide us through hardships.
Featuring the Greatest Name symbol that consists of an Arabic impression of "O Thou Glory of the All-Glorious".
Link Chain 55cm can be adjusted to shorter length.
Pendant measures 2cm x 2cm Sandstone finish