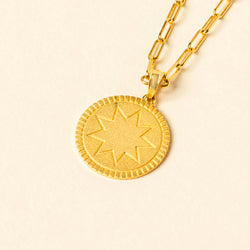 Star of the Sun Necklace Gold
Keep God's brilliance close to your heart as you embark on your spiritual journey.
The Star Of The Sun Necklace will light your path through the glowing rays sent by our creator, serving as a truth to guide you through life's challenges.
This necklace features the Nine-Pointed Star, the number nine is the highest single-digit number, representing unity and perfection. As the highest single number, nine is recognised as a powerful element, representing the numerical value of the word 'Bahá' (Arabic for "Glory") in the Abjad numerical system.
Link Chain 55cm can be adjusted to shorter length.
Pendant measures 2cm x 2cm Sandstone finish