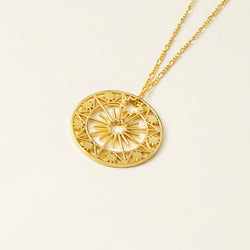 Celestial Medallion Necklace
Discover the Celestial Star Medallion - a one-of-a-kind piece, meticulously crafted with a striking Nine-point star at its centre, encircled by nine smaller Nine-Pointed Stars embodying perfection, unity, and Bahá'.
Wear it for limitless possibilities along life's celestial pathways. Drawing inspiration from the wonders of the sky, this necklace bestows a heavenly aura, making you feel among the stars themselves!
Available in 18k gold vermeil and sterling silver, the Celestial Star Necklace combines celestial allure and deep meaning, a thoughtful addition to any cherished jewellery collection.
Available in 18k Gold Vermeil and Sterling Silver
Pendant 33mm
Chain Length: 45cm + 5cm extension