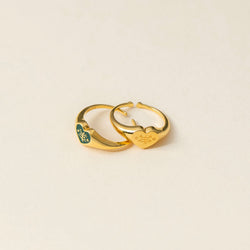 Love Heart Ringstone Ring Gold
Wrap your fingers in the never-ending love with our Love Heart Ringstone ring.
This heart-shaped ring is available in two exquisite color options: a stunning green enamel or a classic plain gold. Adorned with a delicately engraved Ringstone symbol, adding a touch of elegance to this timeless piece.
A delicate signet ring with an iconic and timeless heart design, the piece embodies the spirit of love. Its slight opening at the back ensures effortless wear, allowing you to easily slip it onto your finger.

The Ringstone symbol, a masterpiece designed by `Abdu'l-Bahá, serves as a calligraphic representation of the Greatest Name. This profound symbol beautifully captures and embodies God's purpose for humanity.
The top bar signifies the spiritual world of God; the bottom bar signifies the physical world; the line between signifies the many Manifestations of God; and the vertical line joins the three horizontal bars together in the same way that the Divine Messengers of God form the link between the world of God and world of man. The two accompanying stars represent Bahá'u'lláh and the Báb, central figures in the Baha'i Faith.
18k Gold Vermeil
Size 6, 7, 8