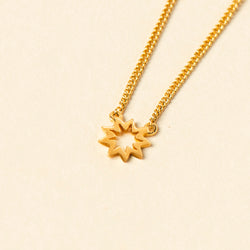 Brightest Star Necklace Gold
Inspired by the wonder of the lights in the sky, the Brightest Star Necklace features a delicate nine-pointed symbol with an open centre. Available in both Gold and Silver, in two chain lengths, this distinctive piece is a reminder to walk your journey with ambition and confidence, with the knowledge that the pathway ahead will be illumined.
Chain Length 40cm (plus 5cm extender length) 
7mm pendant.