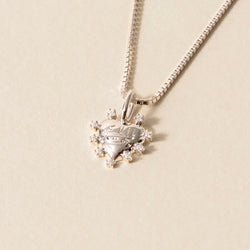 Eternal Love Necklace Silver
This necklace features a sparkling heart-shaped pendant and is surrounded with nine cubic zirconia gemstones. The sleek pendant features, a delicately engraving of the Greatest Name—an exquisite Arabic impression that beautifully echoes the words "O Thou Glory of the All-Glorious" makes a striking statement when worn alone. Alternatively, you can layer it with delicate, finer styles, creating a harmonious blend of elegance that beautifully reflects your unique expression of love.

The Greatest Name, showcases an artistically-drawn calligraphy of the Arabic phrase "Ya Baha'ul Abha," embodying the profound meaning of "O Glory of the All-Glorious". This rendition was originally crafted by the esteemed 19th-century Baha'i calligrapher, Mishkin-Qalam.
Also Available in 18k Gold Vermeil
Pendant measures 12.6mm x 10.6mm
Chain length 45cm + 5cm extension.