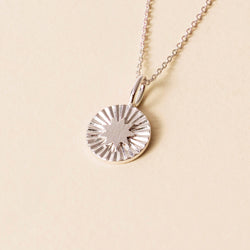 Guiding Star Necklace Silver
Guiding Star Necklace, a delicate and stunning ornament radiating with timeless beauty. The pendant features a captivating Nine Pointed Star design, adorned with shimmering rays at its centre, creating an enchanting sparkle that catches the eye.

Celebrate love, unity, and spirituality with this elegant necklace. Wear it as a reminder of boundless possibilities on life's celestial pathways. Perfect for layered looks or striking standalone statements, catering to minimalist jewellery enthusiasts.

Also Available in 18k Gold Vermeil
Pendant:12mm
Chain Length: 45cm + 5cm extension