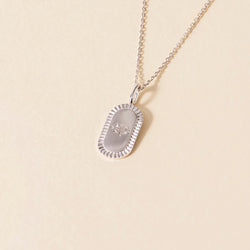 Oval Ringstone Necklace Silver
Exquisite and delicate, this beautiful Oval-shaped Ringstone pendant is a perfect addition to your everyday jewellery collection. It's minimal and refined design exudes elegance, making it an ideal choice for any occasion.
The Ringstone Symbol, a masterpiece designed by ʻAbdu'l-Bahá, is a captivating calligraphic representation. It ingeniously incorporates the Arabic letters in 'Baha,' forming a visually stunning depiction of the interconnected relationships between the worlds of God, Revelation, and humanity. It encapsulates profound spiritual meaning, reflecting the unity and harmony that bind these realms together in perfect harmony.
Also Available in 18k Gold Vermeil
Pendant: 1mm x 13mm
Chain Length : 45cm + 5cm extension